"There are so many people in the world trying to fit in. They always think they need to look for where they belong, but they don't realize...they belong exactly where they are..."

— Kei Lotto to Mavis Vermilion
Kei Lotto
Alias

The Second Coming of Mavis Vermilion

Characteristics

Race

Human

Gender

Female

Age

16

Height

160 cm (5'3")

Weight

54 kg (119.2 lbs.)

Birthday

June 21

Hair Color

Black

Eye Color

Red

Blood Type

O

Professional Status

Affiliation
Guild Mark Location

Abdomen

Occupation

Mage

Base of Operations

First Fairy Tail Building (former)
Second Fairy Tail Building (current)

Personal Status

Status

Alive

Magic

Magic
Weapons

Sword

Portrayal

Japanese Voice
English Voice
Image Gallery

Kei Lotto, given the moniker The Second Coming of Mavis Vermilion is a powerful S-Class Mage of Fairy Tail and amongst its many "aces". She is widely regarded for her young age and use of Fairy Glitter. She is believed to be related to Mavis Vermilion in some way.
Appearance
Edit
Kei is a short young girl with crimson red eyes and long, straight black hair cut in a hime-style. Her skin is unusually pale and her lips are full and a light-pink color. She is typically seen in a dominantly black seifuku with parts in white and red, as well as simple shoes. She tends to wear a kimono with intricate, flower-like designs when relaxing from a mission. She is always shown with her sword, due to her deep-felt attachment to it. Her Fairy Tail mark is on her abdomen. Her full height is 5'3" and her weight is 119.2 pounds.
Personality
Edit
Kei is a quiet, antisocial and lonely personality. She is widely feared throughout Fiore and in the guild, causing others to be too afraid to speak or even approach her, causing her to posses little friends. In recent years, Natsu Dragneel has been stated to begun forcing other members of the Fairy Tail guild to speak and become friends with her, not excluding Erza Scarlet, Gray Fullbuster and Juvia Lockser. Lucy Heartfilia has even worked up the courage to speak to Kei and claims her as being a good person.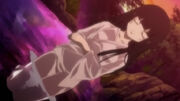 According to Makarov Dreyar, Kei is quite powerful in her magic and could become the next Fairy Tail guild master if she chose. He states that she takes a great deal of responsibility onto herself, calling herself Fairy Tail's protector. She has developed a deep bond with just about everyone within the guild, even excommunicated members such as Laxus Dreyar. She has also developed bonds with Mages from other guilds;
Lisa
from Lamia Scale,
Madeline
from Grimoire Heart, and even Gajeel Redfox and
Alaura Lintley
from Phantom Lord (whom are currently Fairy Tail members). She possesses strong religious beliefs and prays everyday, believing that religion will save her soul.
Magic & Abilities
Edit
Relationships
Edit